My old WordPress theme, Rounded Transparent, was getting a bit long in the tooth. I decided it was time for an update. Truth be told, I was getting a bit tired of the way images were being handled in the posts. I didn't like the fact that the text wasn't wrapping properly around the image: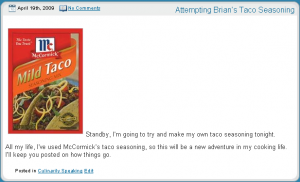 I probably could've mucked around in the CSS and figured out why it was doing that, but I didn't really want to spend the time.  And since I've had this theme for over a year, it was time for a change regardless.
So how did I solve this minor crisis of site identity (notice I didn't write "my identity")? I did a search on the WordPress Themes site and found iNove.
And that is what you're currently viewing in all of it's clean and modern glory.
I'm still trying to figure out whether or not I really like the right side navigation, but I figure I'll give it a try for a while, and if I don't like it, I'll find something else.
In the mean time, enjoy!