Yahoo! Finance had this article that left me rather incredulous and with a bitter taste in my mouth: Wealth-Less Effect: Earning Well, Feeling Otherwise
The article tackles the "plight" of those who earn $250,000 per year or more. They're feeling slighted because President Obama's proposed tax changes will likely have the biggest effect on them.
Frankly, I feel like the Parnells, around whom the story revolves, are really just a bunch of whiners. They make $260,000 per year.  According to US Census data for 2006, households that earn $250,000 or more are in the top 1.93% of the population. That is to say, of the approximately 116 million households in the US, comprising about 306 million people, they make more than 98.07% (113.8 million) of them.  And they're not rich?
Consider this: the mean household income for 2006 was $66,570.  The median household income for 2007 wasn't far off from that: $50,740. Let's look at this graphically: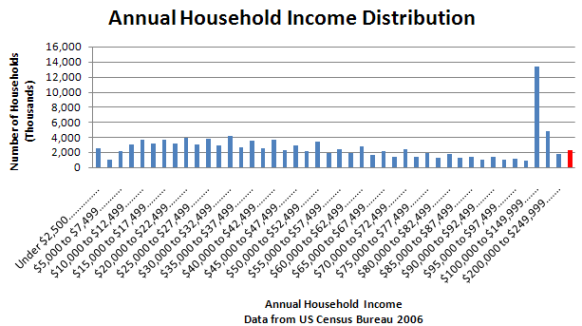 What you're looking at is a graph of the distribution of annual household incomes for 2006. (Again, this data is from the US Census Bureau.) You can clearly see that people making more than $250,000/year are way out on the left side of the graph highlighted in red. The mode is clearly distinct at the $100,000 to $149,999 range. The mean is close to the center and just a bit to the right.
So the Parnell's income bracket is highlighted in red, and they're making more than five times the median household income from 2007–nearly four times the average for 2006.  And they're not rich? Absurd!
Here's a few choice morsels about their standard of living:
They earn $260,000 per year.
They have three kids.
He drives an Infiniti (it's more than 10 years old).
They vacation in Sandestin, FL every year at a family house there.
They live in a 2,500 square foot house.
They have medical insurance.
They are able to make monthly contributions to their 401(k)
They "tithe" $1,300 per month–that's not a tithe. A tithe is ten percent, they're giving closer to five percent, but I'll let God take that up with them.
They bought a piece of land (the article doesn't specify why); when combined with the mortgage on their house they pay $4,000/month.
They've financed their cars.
They're insured (the article doesn't specify, but I'd guess it includes the medical–mentioned above–dental, car, and home insurance.)
They have a college fund for their kids.
After all those expenses, they're still left with $1,200 each month. I'd call that "fun money."
That's just one example from the article.  I'd hate to know the "dire straits" of James Duran, owner of an HR company in Silicon Valley and president of the Hispanic Chamber of Congress in California. He "only" makes $400,000 per year, and in his own words, "I'm barely getting by."
Are we're supposed to feel sorry for them because they're "not rich"? How infuriating!
Ms. Parnell states: "Our needs are being met, but we don't have a load of cash to cover wants…I can pay my mortgage and I can buy some clothes. I'm not going without, but I'm not living a life of luxury." Since when was an Infiniti not a luxury? For that matter, since when was owning an Infiniti a "need"? How about taking an annual vacation in Florida, or the ability to contribute to a 401(k), or having $1,200 leftover each month after all the "needs-based" expenses have been taken care of?  Their cash flow isn't covering their "wants"?  It seems to me they've got an awful lot of "wants" covered by that $260k. And don't even get me started on their house.
I don't know when they bought their current house, but according to this article on ABC, 5 years ago the average house size was 2,349 square feet.  Thirty years prior to that, it was 1,695 square feet. So thirty five years ago, families lived in houses 67% as big as theirs, and they're not satisfied? How insipid!
I'm not going to bother with a point by point rebuttal of just how rich they are; the statistics speak for themselves. But I think they could take a lesson from the pages of a particular Pauline letter. In Philippians 4:11-12 Paul encourages the church by stating, "I am not saying this because I am in need, for I have learned to be content whatever the circumstances. I know what it is to be in need, and I know what it is to have plenty. I have learned the secret of being content in any and every situation, whether well fed or hungry, whether living in plenty or in want." Paul learned to be content whatever the circumstances. There were times when he had plenty–plenty to eat, plenty to drink, plenty to spend–but there were also times of need–times where he was hungry and tired, shipwrecked and beaten. Yet, in spite of it all, he continued to remain content–even joyful–throughout his experiences.  And what was his "secret"? It's right in the next verse: "I can do everything through him who gives me strength." He learned to rely on God. Paul knew he, in and of himself, was inadequate. But he knew that God would give him strength, and with God as his source, how could he not remain content?
In Matthew 22:21 Jesus clearly admonishes his followers (and the Pharisee's who were trying to trick him) to "Give to Caesar what is Caesar's, and to God what is God's." So we inescapably need to pay taxes whether we like it or not. It's not fun and it's not easy, but we need to do it. With that in mind, the Parnells need to quit their whining, take a biblical perspective, and remain content whatever the circumstances. They may have expressed it in the interview and it never got recorded, but absent that, there's a surprising dearth of thankfulness in their tone. The very least they could do is be thankful for what they already have.