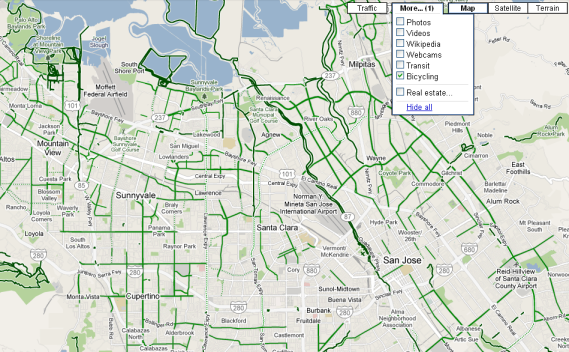 My dad loves biking.  For his birthday and Christmas, he usually requests a hike, or a bike ride with his family.  And now Google is happy to help him out because Google does bike trails. From the Google Maps "More" menu, it's possible to pull up a bike paths overlay.
You can also plan a point-to-point trip by bike, and it will route you on the most bike friendly path.
It looks like there is some information on Bakersfield where my parents live.  But it is a tad sparse.  I'll bet they add more information as time goes on.
There is, however, a plethora of information for the Bay Area, particularlythe South Bay where I live. Maybe I'll have to dust off my bike and get out and ride, especially since the weather is getting better.