The other day I was going through some comments on Charlene's blog, and it was frankly frustrating that I could only see 20 at a time, which is the WordPress default. I should be able to to change the number of comments per page in the admin interface via an easily accessible setting.
I wanted to be able to see 100 or 1,000 comments at a time.  So I went searching around for a solution.  The first solution that came up seemed about right (yay for Google!):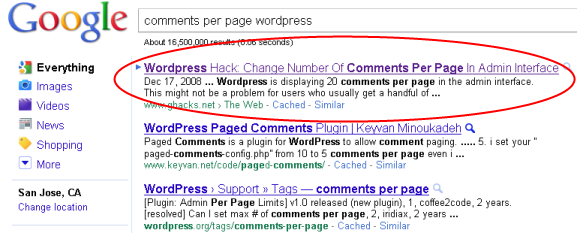 The page described a method of editing the code on the edit-comments.php file.  I'm very capable of editing php files, so that wasn't the issue.  My issue was that there had to be an easier way.  I don't want to have to edit a php page every time I want to change the number of comments. Additionally, the post was written for WordPress 2.7, and Charlene's blog is already on 3.x
The next few Google results were either support tickets, or WordPress plug-in pages.  "I shouldn't have to install a plugin for this!" I thought to myself.
Then, wayyy down on the 2nd or 3rd page of search results I found what I was looking for: "Change Admin Pagination on Posts, Pages and Comments".  It alerted me to the fact that since WP 2.8, there has been a Screen Options button that looks like this:

Clicking that, in turn shows this: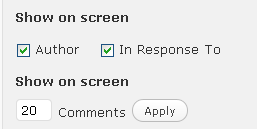 As it turns out, I'm able to increase the 20 to 100, or 1,000 or whatever.
So now you know, you don't need a plug-in, and you certainly don't need to edit code.  If you've got the latest version of WordPress, you're good to go.